Meet our Board
THE PEOPLE BEHIND FITZROY COMMUNITY HOSPICE
We are a group of residents of Rockhampton and the Capricorn Coast, who from our shared professional and personal experiences, are committed to establishing a hospice service in our community.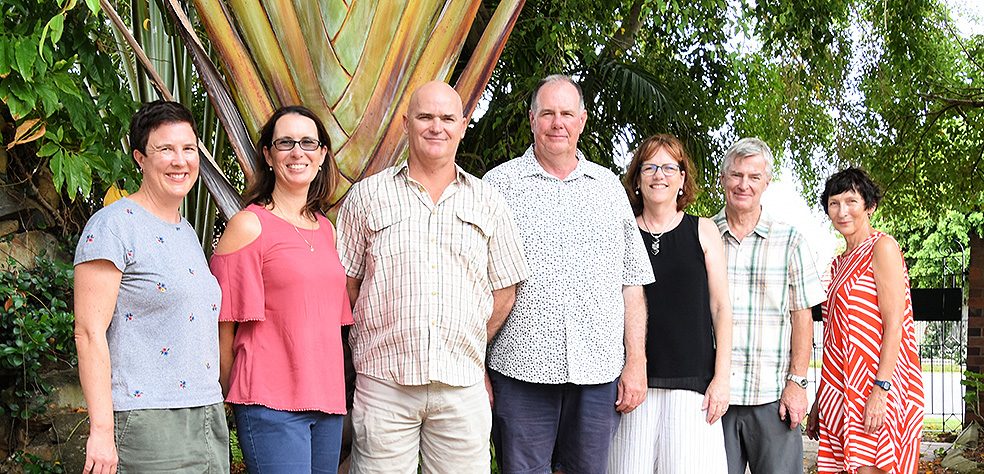 Fitzroy Community Hospice Board
Vicki Richmond, Joanne Bell, Mark Thompson, Steve Richards, Debra Richards, John Martyn, Paula Ryan.
Absent: Wade Mann, Korin Jensen
Joanne Bell
BOARD MEMBER
Joanne is a Psychologist working in private practice in Rockhampton, with a special interest in cancer, grief, pain and palliative care.
Korin Jensen
BOARD MEMBER
Korin is a Solicitor working in private practice in Rockhampton. Throughout her career she has predominantly worked in the areas of Commercial Law and Succession Law.
Wade Mann
BOARD MEMBER
Wade is an active member of the Rockhampton community and a Darumbal elder, who is passionate about cultural awareness.
John Martyn
BOARD MEMBER
John is a retired health service manager with experience throughout Australia as CEO, Chief Operating Officer and General Manager of large Radiation Oncology services.
Debbie Richards
BOARD MEMBER
Debbie is a retired partner of a prominent Rockhampton Accounting practice, who is willing to work towards making a difference in her community and brings her business acumen to the Board.
Steve Richards
BOARD MEMBER
Steve is a retired management accountant who now shares his time between a range of commercial and community interests.
Dr Vicki Richmond
BOARD MEMBER
Vicki is a GP in Gracemere with a special interest in chronic disease management, chronic pain and palliative care and has postgraduate training and experience in health management.
Paula Ryan
BOARD MEMBER
Paula has worked in the health care system for over 35 years as a Registered Nurse and trained counsellor, with her major focus being cancer & palliative care. 
Mark Thompson
BOARD MEMBER
Mark is a Property and Technology Support Officer for the Institute of the Sisters of Mercy of Australia and Papua New Guinea, based in Rockhampton.
Allison Leech
SPECIAL ADVISOR TO THE BOARD
Allison has worked in a variety of nursing roles, including Director of Nursing of the Toowoomba Hospice. Currently Allison is working as a Teacher/Course Coordinator for the Diploma of Nursing at Central Queensland University.
Murray Leech
SPECIAL ADVISOR TO THE BOARD
Murray is an Engineer who has worked in senior roles of health and aged care within the private and public sectors, specialising in the areas of Infrastructure Management, in particular Planning and Project Delivery, Asset Management, Engineering and Maintenance.
Sr Marie Riddel
SPECIAL ADVISOR TO THE BOARD
Marie is a Sister of Mercy and a retired Registered Nurse who oversaw the construction and establishment of the Gladstone Mater Hospital and now enjoys caring for the needs of the elderly Mercy Sisters in the Rockhampton area.
Ian Mill
SPECIAL ADVISOR TO THE BOARD
Ian was the CEO of Mercy Health and Aged Care CQ until 2017. Ian is also a former CEO of Sacred Heart Hospice in Sydney and brings extensive knowledge of the local health service context and strategic engagement.
Margaret Lloyd-Jones
SPECIAL ADVISOR TO THE BOARD
Margaret is a retired Quality & Risk Manager who has worked in both private and public health care systems for 39 years.