Major Industry Forum
Above Image:  Dr Vicki Richmond (Board Chair) presenting at the Major Industry Forum
Fitzroy Community Hospice was included on the list of significant local developments at the recent Capricorn Enterprise 2022 Major Industry Forum.
Now in its sixth year, the respected premier industry event took place at Frenchville Sports Club on Thursday 13th October.  It was a day of learning and collaboration on the major projects and developments happening in our region.
The forum was attended by over 100 senior decision makers from local industry and was a fantastic opportunity to build awareness of the essential need for a hospice in Central Queensland.
Dr Vicki Richmond (Board Chair) was among the 12 experts to present on key issues currently impacting the region.  The range of topics across three key themes included Health and Education, Regional Projects and Futures, and Energy, Manufacturing and Digital.
FCH representation at this respected premier industry event provided significant networking opportunities, as well as the ability to showcase to key business representatives the benefit of becoming a Founding Partner in this significant legacy project.
Major milestone reached for building Central Queensland's first hospice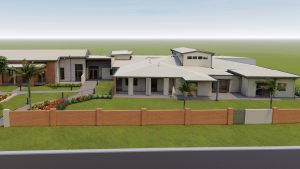 Fitzroy Community Hospice has reached an important milestone with the announcement that following a competitive expression of interest process, the tender to contract a builder for Central Queensland's first hospice is now complete.
The state-of-the-art palliative care facility will be established in Agnes Street, Rockhampton as a purpose built 12 bed hospice. It will operate as a licenced health facility, and exacting quality and safety standards will apply to the built environment.
The need for a hospice is becoming greater because our local population is growing, and as people age, health requirements become more complex. Extensive consultation has been undertaken to ensure the facility will meet the needs of the community both now and into the future.
Construction is anticipated to commence in January 2023. Fitzroy Community Hospice is expected to be operational from late 2023.
Click to view the latest version of the virtual walkthrough.
Fundraising Events
A big thank you to the Rockhampton Golf Club, the Rockhampton Lions Club and Riverston Tea Rooms and for your support of Fitzroy Community Hospice and to everyone who attended these events and donated raffle prizes.
Charity Pink Golf Day

Image:  Rockhampton Golf Club charity pink day participants.
The Rockhampton Golf Club hosted a Charity Pink Day two person Ambrose on Saturday 12 November, raising over $15,000 for Fitzroy Community Hospice. The day was a massive success with 238 players registered to enjoy the fun.
Lions Club Trivia Afternoon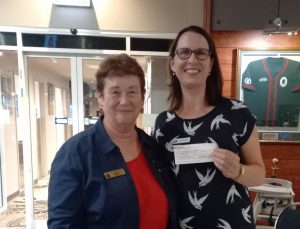 Image:  Juliette (chair of Rockhampton Lions Club) with Joanne Bell (Fitzroy Community Hospice)
The Rockhampton Lions Club hosted a charity trivia afternoon on Saturday 15 October, raising $1500 for Fitzroy Community Hospice which the Club matched with a further $1500 donation.
High Tea for Hospice
Riverston Tea Rooms hosted a charity high tea on Sunday 30 October, raising $ for Fitzroy Community Hospice. A wonderful afternoon was had by all, with the event selling out well in advance.