First Founding Partner
Fitzroy Community Hospice is proud to announce its first Founding Partner, Evans Edwards & Associates, who have committed their support as a Founding Partner of Fitzroy Community Hospice, donating $50,000 towards the establishment of the Hospice.
Fitzroy Community Hospice has embarked on a major fundraising program, inviting Central Queensland businesses to become Founding Partners. While the Australian Government are providing some of the capital funding required, further funds are needed to ensure Fitzroy Community Hospice is completed to the highest possible standard and meets the needs of our community now and into the future.
"At Evans Edwards & Associates, we are big on supporting our community and want to contribute to building a stronger community" says Marni McGrath, one of the Principals at Evans Edwards & Associates.
"There was no question that we would support Fitzroy Community Hospice" says Marni. "It meets the needs of the whole community, now and into the future, and will give people choices at end of life. There is nothing else like it in Central Queensland".
"I know that I speak on behalf of the other Principals, Tony Edwards and Jayne Maresse, and the whole team at Evans Edwards & Associates. We want to see Fitzroy Community Hospice become a reality and we really hope that our contribution as a Founding Partner will build momentum and encourage other businesses to support Fitzroy Community Hospice and join us as Founding Partners" says Marni.
Central Queensland businesses are the backbone of our community – stimulating economic growth, facilitating investment, and generating jobs in the region. In Central Queensland, local businesses know their corporate social responsibility starts with grassroots support of local sports and social clubs, schools, health facilities and charities.
As a not-for-profit charitable organisation, community financial support is essential to the establishment and future operations of Fitzroy Community Hospice. All donations are greatly appreciated and tax deductible.
To find out more about becoming a Founding Partner or supporting Fitzroy Community Hospice, please click on the Ways to Give tab or email admin@fitzroyhospice.org.au
Charity Book Sale
Our Charity Book Sale held on Sunday 13 March was an amazing success! Total funds raised came to $7268.65. A big thank you to everyone who came along to support us on the day, as well as those who donated books and raffle prizes. A very special thanks to the wonderful volunteers who helped make the event such a success. Your hard work was greatly appreciated. Finally, a massive thank you to David Lim and his family from Gelatissimo who brought along their gelato cart, donating $350 and the Rotary Club of Fitzroy Rockhampton who operated a sausage sizzle, donating $250. This event was certainly a great demonstration of the amazing support for Fitzroy Community Hospice and how much the Central Queensland community want to see this vital local service become a reality. Surplus books were supplied to the Rotary Club of Fitzroy Rockhampton for their Donations Inkind program and the Lismore Library to help replenish their library following the recent devastating floods.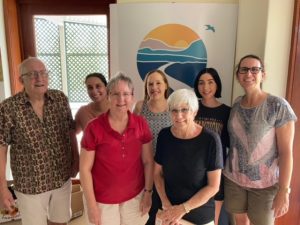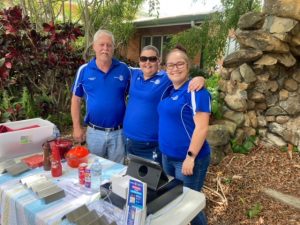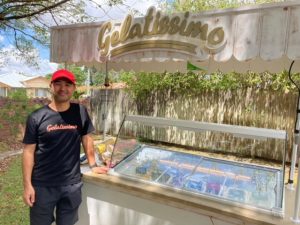 Farewell Marie
Last month, the Fitzroy Community Hospice Board bid farewell to Marie Riddel as she embarks on her retirement. Marie has been a valued and much-loved Special Advisor to the Board and has been involved in Fitzroy Community Hospice from it's earliest days. Marie will be remembered for coming up with the name Fitzroy Community Hospice and has been instrumental in securing numerous donations and great support for this project. We wish Marie every happiness in her retirement. She will be missed at our Board meetings, however we look forward to her continued support as a Member of Fitzroy Community Hospice.