Who we are
THE PEOPLE BEHIND FITZROY COMMUNITY HOSPICE
Our Vision
That all members of our community will have access to:
respectful care at the end of life to allow them to die with peace, dignity and choice

the support they require while caring for and grieving a loved one.
Our Mission
To establish and operate a professional and sustainable community-based palliative care service that provides the highest standard of comprehensive and holistic end of life care and compassionate support for all, based on mutual respect, trust and recognition of individual needs.
Our Values
Compassion, dignity and respect for all

Collaboration, communication and team work

Excellence in care

Ethical and professional conduct

Sustainability
We are a group of 11 residents of Rockhampton and the Capricorn Coast, who from our shared professional and personal experiences, are committed to establishing a hospice service in our community.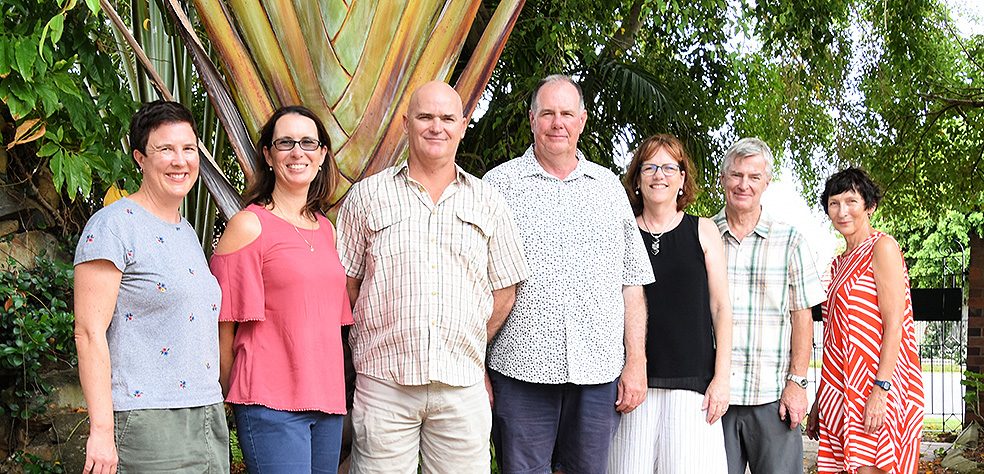 Fitzroy Community Hospice Board
Vicki Richmond, Joanne Bell, Mark Thompson, Steve Richards, Debra Richards, John Martyn, Paula Ryan. Absent: Wade Mann.
Joanne Bell
BOARD MEMBER
Joanne is a Psychologist working in private practice in Rockhampton, with a special interest in cancer, grief, pain and palliative care.
Wade Mann
BOARD MEMBER
Wade is an active member of the Rockhampton community and a Darumbal elder, who is passionate about cultural awareness.
John Martyn
BOARD MEMBER
John is a retired health service manager with experience throughout Australia as CEO, Chief Operating Officer and General Manager of large Radiation Oncology services.
Debbie Richards
BOARD MEMBER
Debbie is a retired partner of a prominent Rockhampton Accounting practice, who is willing to work towards making a difference in her community and brings her business acumen to the Board.
Steve Richards
BOARD MEMBER
Steve is a retired management accountant who now shares his time between a range of commercial and community interests.
Dr Vicki Richmond
BOARD MEMBER
Vicki is a GP in Gracemere with a special interest in chronic disease management, chronic pain and palliative care and has postgraduate training and experience in health management.
Paula Ryan
BOARD MEMBER
Paula has worked in the health care system for over 35 years as a Registered Nurse and trained counsellor, with her major focus being cancer & palliative care. 
Mark Thompson
BOARD MEMBER
Mark is a Property and Technology Support Officer for the Institute of the Sisters of Mercy of Australia and Papua New Guinea, based in Rockhampton.
Sr Marie Riddel
SPECIAL ADVISOR TO THE BOARD
Marie is a Sister of Mercy and a retired Registered Nurse who oversaw the construction and establishment of the Gladstone Mater Hospital and now enjoys caring for the needs of the elderly Mercy Sisters in the Rockhampton area.
Dr Karen Quinn
SPECIAL ADVISOR TO THE BOARD
Karen is a GP with a passion for palliative care and has provided support for many families wishing to palliate at home.
Cr Neil Fisher
SPECIAL ADVISOR TO THE BOARD
Neil is a longstanding Rockhampton Regional Councillor and is the current Deputy Mayor.